I'm not really sure what to make of
San Cristobal de Las Casas
. It's a town nestled in the highlands of Chiapas.
There is colonial architecture...
A zocalo and cobblestone streets...
A modern alameda (shopping and dining area)...
A fairly large indigenous artisan market...
A bustling produce market...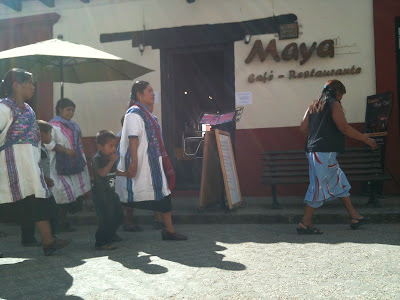 There is the indigenous population...
The hip ladino population (this is salsa concert in the plaza)...
Tourists, students, activists and nuvo hippies.
It really is a mixture of things.
San Cristobal and the state of Chiapas were off the radar for many years. It was an area with a large indigenous population that was pretty much left out of much of the modern diaspora of Mexico. There had been researchers, anthropologists and archeologist in the area studying the culture and Mayan ruins. There were some development agencies working in the area. There were occasional protests and some small armed conflicts. But socially and politically it was largely isolated.
Until about 1994, when the
Zapatista Rebellion
and a mysterious
Sub-commander Marcos
made Mexican and world news. The details of the Zapatista Rebellion can be read on the web. The end result was that there was eventually an unsettled signed accord. But the rebellion attracted world attention and many socialists and left leaning politicos migrated to the area. With all the foreigners and foreign money in town the locals started renting out housing... building hotels... opening restaurants and cafes...started language schools... created non-profits... and developed some infrastructure.
Now there is this interesting mix of the indigenous, ladinos, foreigners, traditionalism, tourism, capitalism, post-modernism, socialism and an undercurrent of the Zapatista movement.