One of the places in Mexico that I have been looking forward to visiting is Oaxaca. Oaxaca is known for it's artesania (artesian work) - from pottery to textiles to tin shaping to wood carvings. Many years ago I came across some barro negro (black clay) pottery and have always wanted to pick up a piece.
It turns out that this little village 10km outside of the town of Oaxaca called San Bartolo Coyotepec is considered the birthplace of the barro negro style of pottery.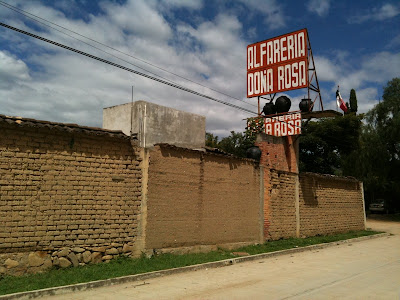 And this Alfareria (pottery workshop) of Dona Rosa (Rosa Real Mateo) is considered the place where it originated.
The clay is collected from around the area of San Bartolo. The pulverized clay, quartz and water are combined to create a workable clay. Then spun into the desired shape on a simple potters wheel made of two plates. The traditional style was plain and utilitarian. The modern style may include elaborate designs and carvings.
The formed shaped is baked in an earthen furnace. An intense and longer baking time results in a more brilliant shine on the pottery.
A skilled potter will create something like this...
...or this.
Finding this workshop and learning about the pottery process was amazing for me. I picked up a few pieces and will be sending them home.