I traveled to the small town of Mindo that is situated in a tropical cloud forrest in the Western Andean Slope of Ecuador.
I stayed at a nice little hostel called La Casa de Cecillia. The rooms were in a treehouse like structure made of wood. There was a little alcove between the building and vegetation that made a perfect parking space for Emi.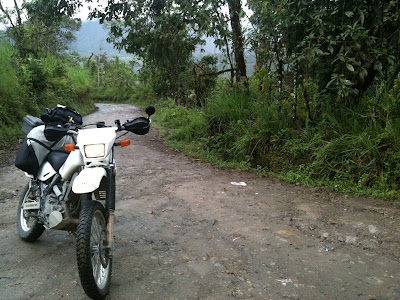 I took a ride along a dirt road into the cloud forrest to check out the surroundings. I started at about 8000 feet in altitude, the road ascended the mountain and I gained another 1000 feet in elevation. It was cloudy and raining lightly which made the ride strangely pleasant.
The combination of the clouds, clean air, light rain, dirt road, vibrant green vegetation and forrest sounds was a sensory smorgasbord. I would ride for a while, park for a while, ride for a while and park for a while. Just taking in the sights, sounds and smell of the cloud forrest.
After riding through the cloud forrest for a while I decided to head south to a town called Banos. I was told by a local that there was a new road that would take me from Mindo to Los Bancos to Mercedes to Paquimaro to Aloag to Banos. The segment between Mindo and Paquimaro was not on google, my map nor on my gps. But I thought to myself that if the locals knew about it, it must be there.
The road took me along some of the best scenery that I've come across on my travels. The country road carved gentle curves through the hills. It ascended and descended gradually. It was rough asphalt but without potholes. Each corner opened up fantastic views.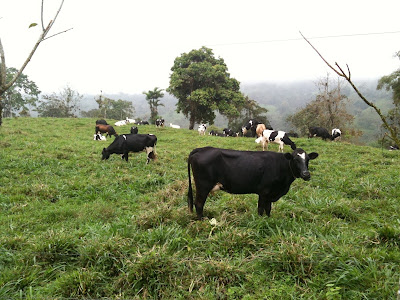 It was a single lane that wound through cattle ranches, sugarcane fields and rolling hills. It was an hour of blissful riding.
Then it met up with the highway to Banos. This highway crossed over the Andean Mountains and was two lanes of cars and large trailer trucks. It was cloudy as I passed over the range. The visibility was decent at about 100 feet (30 meters). But it was rainy and cold. I was wearing all my gear - soft shell jacket, motorcycle jacket, rain parka, pants, motorcycle pants, rain pants and winter gloves. My body was warm, but my feet and hands were feeling the cold and dampness.
After about 3 hours of riding I took a little break at a nice roadside cafe outside of Cotapaxi. I had a wonderful meal that included potato soup, pork, rice, papas, fresh rasberry juice and a dessert of tres leches. It warmed me up and fortified me for the last hour of riding into Banos.
I rolled into Banos at about 6:30pm and found a room at the Plantas y Blancas Hostel.
It was a full day of riding. Some pleasant, some grueling. But, it's all part of the adventure.