It was a full day of riding to a town called Pasto. I stopped in Pasto to spend the night at a hostel called the Koala Inn. Nothing really remarkable about Pasto, for me it was just a stop on the way to the border.
I woke up early and headed south. It was about a hour and a half to the border.
Upon arrival, I checked in with the Colombian Customs and the process was quick and easy. I was done in about 2 minutes.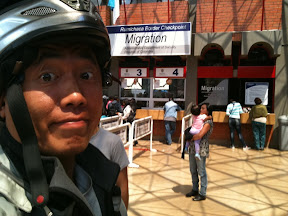 However, there was a long line for Colombian Immigration. It was the tail end of the new years holiday. It seemed like there were a number of people traveling between Colombia and Ecuador for vacations. There were probably 200 people in front of me. I will say that the processing was moving along at a decent pace. But, it took about an hour and a half to get through immigration line.
On the Ecuador side, I encountered the same group of people lining up at immigration. While waiting I did meet some friendly Colombians and Ecuadorians and engaged in some conversation. It made the time pass by a little faster. I also had some time to write some blog posts.
Another hour and a half later, I was through the Ecuadorian Immigration line.
The Ecuadorian Customs processing was probably the fastest I had encounter in all of my border crossings. I was the only one in line requesting a permit, the system was electronic, I had copies of all my documents, the agents were friendly and it only took about 5 minutes.
However in total, the border crossing took longer than I expected... about three hours.
In Ecuador, I noticed that the buses, trucks and cars were much more aggressive in passing traffic on the highway. They would pass on blind corners, up hills and two or three vehicles at a time. It's interesting how riding conditions vary between countries. I noticed that there were fewer motorcyclists in Ecuador than in Colombia. It was nice riding alongside other motorcyclists in Colombia as a gauge for riding speed and road conditions. In Ecuador, I was on my own.
As I ventured on, I began to run out of day light. I didn't feel like pushing it, so I pulled over in a town called Cayembe. It turns out that Cayembe is pretty close to being at the middle of the world... or in other words...the equator.
For the night, I stayed at a roadside hotel called Hotel La Mitad del Mundo.
I had arrived in Ecuador and crossed over into the southern hemisphere. Nice!