After breakfast, Sophie and Rudy were leaving, so I saw them off.
Then Clever, my guide, and I set off in the canoe to do a little fishing Amazonian style.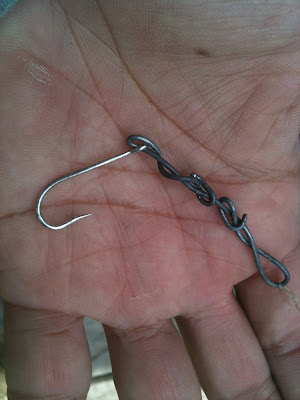 You take a hook, secure it with some 10 guage wire, tie it to some 20 lb test fishing line and tie it to the end of a 5 ft long pole made out of a tree branch.
Then attach a raw piece of carne de res (beef) to the hook and drop it in the water. With the tip of your pole you then stir the water and make a little noise. This technique is contrary to any fishing technique that I've every heard of, but...
It works great for catching piranha! The 10 gauge wire works as a leader and pro vents the fishing line from being snapped by the piranha's bite.
There are red piranha and white piranha...and they both have very sharp and menacing teeth. The sound attracts them and the beef entices them. The don't put up much of a fight in the water, but once you pull them out of the water...watch out...they shake and squirm. If they happen to fall off the hook and into the boat you have to watch your toes.
I caught about half a dozen and released them all. Supposedly the piranha are not very tasty to eat. After I had fed them enough steak for lunch I returned to the lodge for lunch myself.
I laid around a bit in a hammock waiting for Jorge, my guide, and a new group of travelers to arrive at the lodge.
We got a tip from one of the other guides that was cruising the river that there was a large anaconda perched on its nest. Jorge got the directions and we were off.
By the time that we arrived there were already 3 or 4 boats rapidly approaching the nest. The snake slid into the water and disappeared. With the snake gone, the other boats cleared out and headed in a different direction. We were all a little disappointed that we didn't get to see the snake.
Jorge wanted to show us the nest, so we approached the area quietly by paddling.
We continued on our little animal watching excursion.
After dinner, we went for a walk into the rainforest in the dark.
We heard some night monkeys up in the trees, but it was difficult to get a clear view of them in the dark.
Day 2 was a pretty full day. I retreated to my room and slept soundly.