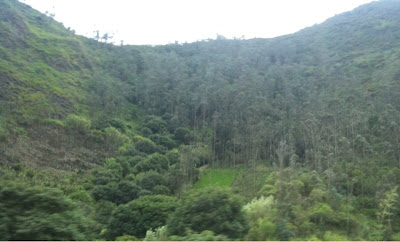 Banos is a medium size town nestled between mountains. It seemed like there was a lot going on. There were always people out on the streets and always some type of activity.
What Banos is really known for is the number of natural hot springs and swimming pools that are spread around the town. I decided to check one out with a few friends.
Wim (Dutch), Ashley (Aussie) and Me chilling with the local guy.
Scott (Aussie), Me, Ashley (Aussie) and Debbie (Dutch) soaking it up. The local guy was taking a breather. It was a pool rule that all the women had to wear a bathing cap. Debbie pulled off the plastic bathing cap with style.
Ashley decided to ditch us and pick up some local girls. I don't blame him.
It was a pretty fun and relaxing experience overall.
The Cathedral occupies one side of the central plaza. Notice the clouds in the background. The clouds are not especially low... it is just that the town is that high.
The Cathedral lights up at night.
The town is noted for it's cottage industry of taffy makers. Vendors pull the taffy in the front of doorways and then sell it and a variety of other sweets on sidewalk stands.
There was some kind of procession going on in which many of the school kids were dressed as Biblical characters.
There was even an Angel, Joseph, Mary and Baby Jesus.
I walked by this court in which a number of guys were playing 3 on 3 volleyball with a soccer ball. There was a decent size crowd watching. It looked like pick up games, but they were taking it pretty serious.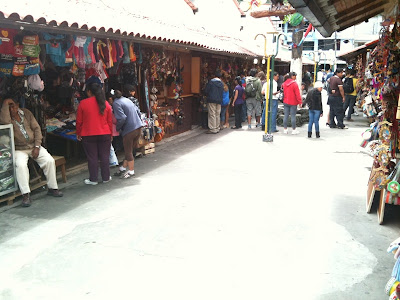 There was an artisan market with mostly jewelry, leather goods and wood carvings.
A little grilled Cuy (guinea pig) being sold outside the market.
The military marched through the center of town and were singing marching songs. Kind of cool.
These kids were playing online video games in an internet cafe. My friend Eddie is probably whipping up on these 12 year old kids. He likes to play online and bully little kids. Kids will be kids.
I met up with the group for one last farewell. Ashley (Aussie), Wim and Debbie (Dutch) and Scott (Aussie).
And there were a number of travel agencies through which one can book all kinds of activities like hiking, rafting, horseback riding, motorcycle riding, dune buggy driving and tours to the Amazon Jungle.
I opted for the last option with a company called Expediciones Amazonicas. When I make it out in a weeks time I hope to provide an update.
While I was waiting for the bus that would take me on a 10 hour journey to Lago Agrio, the jumping off point to the Amazon, I shot this short video inside the bus terminal. The video is raw and unedited. But it's a little slice of life of what its like to be a traveler in Ecuador.