As I moved south, I visited the town of Popayan. It's know for having a pleasant climate, colonial architecture and intellectual people.
I stayed at a nice hostel right on the central plaza called the Park Life Hostel.
There's a number of things to do around the city, but I really just felt like walking the town and doing a little people watching. I encountered some interesting sights.
The window from the Park Life Hostel provided a great view of the Plaza de Caldas.
The Cathedral
And the view from the inside the Cathedral.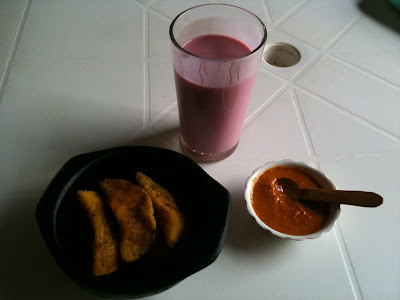 Empanadas de pipian and a yogurt drink from a restaurant called La Fresita.
The museum dedicated to the poet...
And former president...
Guillermo Leon Valencia.
The Iglesia San Francisco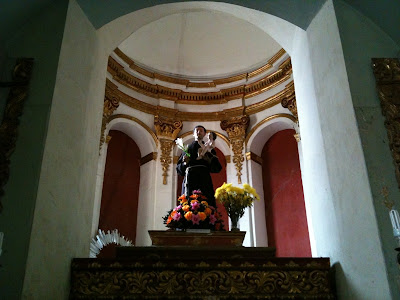 had a few statues of saints...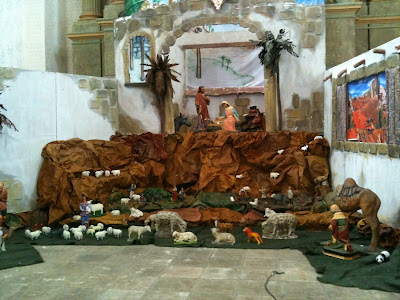 and this elaborate nativity scene...
which included wise men, camels and a panda bear.
There was this pedestrian bridge called El Puente de Humillidero...
and this older pedestrian bridge called El Puente de Custodia, which they say priests use to walk across to the poor area of town to care for the needy.
The Iglesia de Santo Domingo.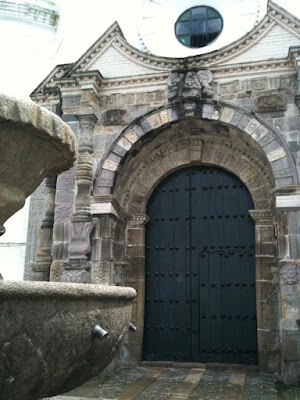 And it's entryway with intricate masonry.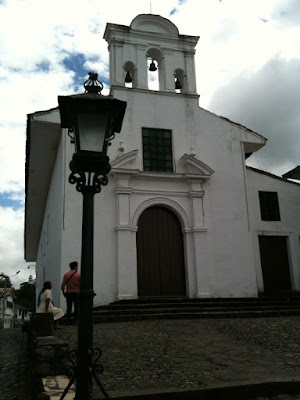 The Iglesia de La Ermita. See the two ladies talking in the lower left hand corner.
This one lady approached me and was quite disturbed.
She explained that under the black cover in the lower right hand corner there was a corpse. Hmmmm, I thought this is something I would not normally see on an organized walking tour. I didn't know what to do, but I knew that I didn't want to look under the cover. I tried to explain that I was not from Popayan and really didn't know how to help. Also, It was the day before new years and everything was closed. We both just awkwardly muddled around for a bit. I assumed that the priests of the church would know what to do. Eventually we both went our separate ways. I suppose somethings are better left a mystery.
I continued on and saw many buildings like this typical colonial house.
And these colonial government buildings.
This cute old lady was selling her catch of trout along the sidewalk. I believe that she was from the nearby town of Silvia where they wear traditional dress including these stylish bolo hats.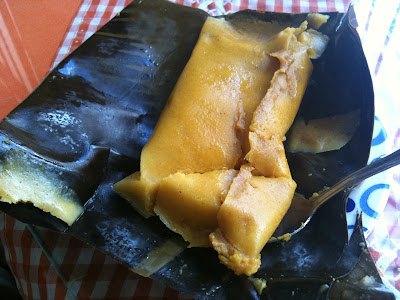 I stopped at a little cafe and had a tamal de pipian.
As the night approached, the Plaza de Caldas took on a different appearance.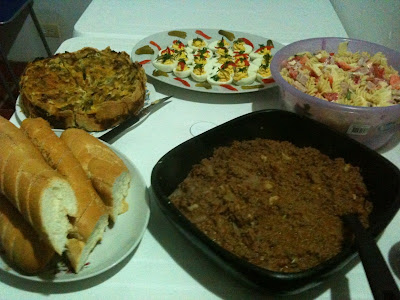 Back at the hostel, the owners, other travelers and I shared a New Years dinner of international cuisine. My contribution was Texas Chile and a Baguette. People seems to like it.
Lighting fireworks at midnight.
The pleasant climate, architecture walk and the friendly people of Popayan made my stay a memorable one. I didn't visit some of the other typical tourists attractions, but sometimes a simple walk around a city is an adventure in it's own right.