From San Juan del Sur it was only a short trip to the border of Costa Rica.
On the road leading out of Nicaragua I came across this windmill farm.
Crossing the border from Nicaragua to Costa Rica was pretty easy. On the Nicaragua side they did require some paperwork and photocopies. It took probably 30 minutes to get through.
On the Costa Rican side there was a long line of probably 200 people in line. Thankfully Costa Rica is organized. For the amount of people waiting to cross the border the immigration department processed them rather quickly. I think that I got through the line in maybe 30 or 40 minutes. There was no cutting in line and no bribery going on. Once it was my turn, my paperwork was processed within 10 minutes. There was no need for an ayudante. The process was clear. And, they only required one set of photocopies. Amazing how a little law and order makes things easier.
Once I got through the border I had a bit of riding to do. I was targeting a coastal town called Samara that was about 190 km away.
Costa Rica has clearly marked highway signage with towns and distances clearly presented. They also have clearly posted speed limits that are enforced by radar wielding police officers. I regulated my riding according. I didn't mind because the roads were in good condition, the traffic seemed to obey the rules of the road and I was riding through beautiful Costa Rican countryside.
I arrived in Sumara after sunset. I rode around in the dark looking for a hotel. I eventually came across a place called Las Mariposas Hostel.
This is what La Mariposa Hostel looked like during the day.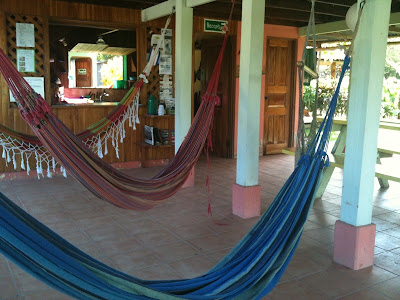 It was a small and friendly place that suited me fine.
The managers offered to let me park my bike in their bodega (shed).
And this little guy kept guard over the grounds. My kind of place.
I spent my first two days in Costa Rica and at Las Mariposas just catching up on blog posts, lounging around the beach and socializing with the other travelers.
And making plans for passage into South America.