I was in the town of Panajachel and staying at a hotel called Hotel El Sol.
Emi was looking pretty haggard from traveling 4000 miles over asphalt, gravel, dirt and through rain. I thought for this 4000 mile anniversary that I'd treat her to a little tender loving care.
Across from the hotel was a moto taller (moto service shop) called Multiservicios Dany. The manager's name was Elesao. Nice guy. He offered me a package maintenance deal for a cleaning, oil change, air filter cleaning, chain and sprocket lube. The total cost was about $45. I felt like it was a time saver and bargain for me. They did a great job and Emi came out sparkling.
The second thing to which I wanted to treat Emi was a shorter pata (kickstand). Under normal circumstances a motorcycle is designed to lean on it's kickstand at a certain angle. However, when more weight is placed on the moto, from tools and luggage, it will stand more upright. This makes the moto a little less stable when parked and on uneven ground it can result in a tip over. This has happened to Emi twice. Totally my fault for parking on uneven ground.
Therefore, I wanted to shorten her kickstand which would result in a lower lean and more stability.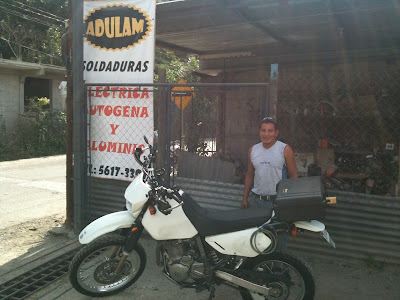 Down the street from Multiservicios Dany was a metal taller called Adulam Soldaduras. I spoke with one of the fabricators named Isaac. He said that he could do the work.
First he took the kickstand off the bike.
Then he cut about 3/4 of an inch off the bottom.
Then he welded a 2 x 2-1/2 plate to the bottom.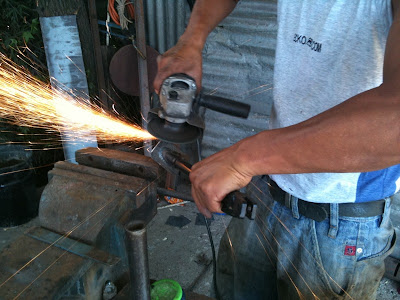 Then he rounded off the edges to make them smooth. Also he painted the bare metal black.
Then he reattached the kickstand to the moto.
Here's the old shoe next to the new shoe. It fits perfect and looks great.
Isaak charged me 45 pesos and I tipped him an extra 5 pesos. The total cost about $6.30 and the work was done within 20 minutes. Fantastic workmanship. Good guy.
Now Emi is all cleaned up with a new shoe and ready to hit the road.