I have decided that it was about time to lighten my load. I've been on the road for about two months and have just about figured out what I need and what is a convenience. There's probably still room for some trimming, but this is what I'm losing.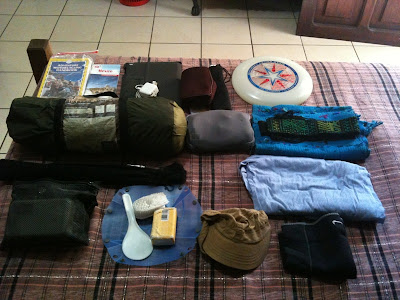 Some books, map of Mexico, iPad, camera light, frisbee, tent, backup harddrives, souvenir textiles, fishing gear, some kitchen gear, extra hat, extra long sleeve shirt, knee brace and light hiking shoes. In total it was about 8 kilos or 18 lbs. And it is weight that I was carrying up high on my bike... not good.
The books were some traveling and motorcycle books that I've read. I've already traveled through Mexico, so I won't be needing that map. I just havent been using the iPad as much as I thought I would, so it's on its way home. I use my iPhone and computer mostly. I brought two 1TB harddrives to backup my computer and media. I'm now going to back it up online or on disks and send them home. Plus, most of my significant memories are online on my website. I was planning to send the textiles home all along. I'm sad to see the fishing gear go, but I haven't had as many opportunities to fish as I'd like. I'll just rent the gear that I may need along the way. I've been eating out mostly, but even when I've cooked I haven't used this kitchen gear. If I lose my hat I'll just buy one along the way. I haven't used this button down shirt, so it has to go. I bought this knee brace after my accident, but my knee is feeling better now so it is no longer needed. The light hiking shoes were not heavy, but bulky. My Garne Adventure G boots are so comfortable I can walk and hike in them. Also, I have some Chacos which will become my comfort shoes. I may pick up some more compact sport shoes along the way if I find that I need them. However, I just haven't been using them that much.
Some of the stuff I took over to the Moto Cafe/CA Tours and left it for others to use. The other day I met Chris, one of the moto guides, and he mentioned that he plays ultimate. I thought that he would put the frisbee to good use. I left a few other items as well. The remaining items I boxed up and sent home via DHL. It cost quite a bit, but the load off the bike and off my mind will hopefully pay dividends.