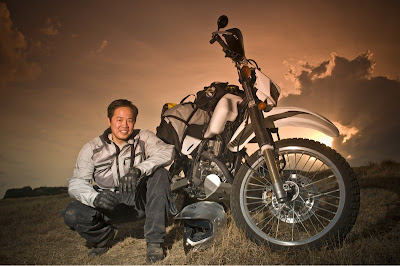 The day has finally arrived. The adventure begins for Tejas a la Tierra. I'm heading south from Austin, Texas to Tierra del Fuego, Argentina. I've resigned from my job, sold many of my worldly possessions, cleaned out my house, modified my motorcycle, packed my bags and said my fair wells. I'm uncertain as to what exactly lies ahead. At this moment I'm feeling ready, but somewhat apprehensive. I've double checked my packing list. I sure that I've left something behind. Oh well, I'll just have to pick it up on the way. Or, better yet, just do without it. The planner in me wishes that I could take more. The free spirit in me wishes that I could take less. I had to cull a few items that I was planning to take - an extra pair of pants, some liner socks, some duplicates of tools. But overall I've been able to fit everything onto my bike. Most importantly I had a good night of sleep and I'm ready to go.
Thanks for all the support and well wishes. This whole trip wouldn't be possible without the support of my family and all my friends that helped me get ready.
The Adventure Begins...Now!
- Troy