Now that my bike has most of the modifications needed to be an adventure motorcycle, I decided that it was time to test out the rider. That's me.
Over the past year I've learned the basics of dual sport motorcycling by riding on a combination of streets and trails. Everthing from the urban roads of Austin to rock ravines of Big Bend National Park. On city streets one must be aware of other drivers, bicyclists, pedestrians, oil spots and the rules of the road. On trails one must be aware of varying surfaces such as dirt, sand, gravel and rocks. Also one must be aware of thorns, branches, critters and mother nature.
Adventure motorcycling requires skills learned from dual sport motorcycling as well as simple durability. Sitting for extended periods, standing for extended periods and withstanding the elements are part of the joy and pain of adventure motorcycling.
So yesterday I thought that I'd test my durabilty.
I needed to go from Austin to Houston for some personal business. Normally this is a pretty easy and enjoyable ride in a car that is about 150 miles or 3 hours. To make things interesting, I decided to do the trip in a single day... so that would be 300 miles and 6 hours of riding. And finally, this would take place during one of our bright beautiful summer days with the temperature reaching 108 degrees.
Here's a few pics...
Along Highway 71.
Emi is up to the task.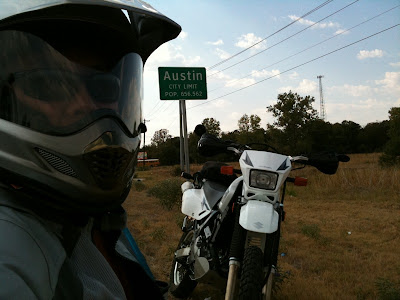 After a long day we return to the Austin City Limits.
Both bike and rider performed fine.