...When The Road Ends. Life off the beaten path - traveling, hiking, photographing and simple living.
Wednesday, November 30, 2011


This is a short 45 second video about moooooving against traffic in El Salvador.
After my wonderful beach experience in Playa El Espino I decided that it was time for a change of scenery.



The exit procedure from El Salvador was smooth and I was through in about 15 minutes.


Once I finished with the entry procedures I rode through the Southern part of Honduras for about 2 hours.

There wasn't much remarkable about the ride. The road was covered with potholes. I took them on as a bit of a challenge, weaving around them as if they were barriers on a obstacle coarse.





I arrived in the border town of El Espino.




For the Nicaraguan side since it was already dark I decided to hire an ayudante (fixer) for $10. He got me though immigration, customs and the local police inspection in about 15 minutes.

I generally don't like to ride in the dark. It's harder to see the pot holes, farm animals, other automobiles and bandidos (bandits). About the same time that I was leaving the check point another car was passing through the border, so I decided that it would be smart to follow it. I was able to leverage their lights and their path. Also, strength in numbers. It worked.

I followed the car for about 20 km to the town of Somoto, Nicaragua. There we parted ways and I found the Hotel Pan Americano to spend the night.


I heard that Playa Espino was one of the best beaches in El Salvador. When I told Roberto from the Hotel Entre Piedras in Alegria that I was thinking of going there, he looked a little puzzled and genuinely concerned. He said that the beach is nice, but the hotels are not of the same quality. A polite way of saying that they would suck. And he mentioned that the people there may not be very helpful. A polite way of saying that it might be a little unsafe.
He recommended that instead I might try an area called Puerto Triumpho. I said that I'd check out Puerto Triumpho and then maybe Playa Espino.
So I set off for Puerto Triumpho. The ride down to the coast took me over some twisty roads. It was a nice 30 minute ride. I took the cut off for Puerto Triumpho. Usually I try to stay away from any town that has Puerto (Port) as part of it's name because I know what it generally implies... a dirty, seedy and somewhat unsafe port town.
Upon arriving in Puerto Triumpho I took a quick ride around the town. It pretty much lived up to my expectations. It felt like people were checking me out... and not in a good way. I decided that I'd seen enough and that I'd take my chances in Playa Espino.
It was about 10 km back along the coastal highway, then about 25 km over some hills and to the beach.
When I arrived in Playa Espino I couldn't easily recognize the beachfront area.
I eventually found it.
I rode around the town a bit, down some dirt roads, up some sandy paths. I found a restaurant at which to eat and to take a break. I asked the waiter where I might be able to find a hotel. He pointed me in the right direction.
All the hotels were along one street so I decided to ride down the street and inquired at each hotel what amenities it contained and what was room charge. Most of the the hotels were pretty basic... bed, fan, bathroom attached or unattached and ranged from $10 to $25. One room was offer to me for $15, but it didn't contain a bed. None of the hotels really appealed to me and many appeared unsafe.
I eventually came a cross a pretty basic hotel room with a bed, sheets, fan and external shared bathrooms for US$10. It was getting late so I needed to make a choice. Of all the places that I looked at it this place appeared to be the most secure. However, I didn't know if the gate with with lock and cable was to keep people out or keep people in.
Here's the room... a bed, sheets, one electrical socket for the one light and solid brick walls. Nothing else. The bathroom was an external shared bathroom. I just figured that I'd do without a bath for a day.
I've stayed in some pretty sketchy hotels before. But when required I can adjust to just about any situation.
First, I moved Emi and my bags inside the room. No worries about theft.
Second, I sealed off all the windows and locked them. This would limit the ventilation, but hopefully reduce the amount of insects that would enter the room. Also, reducing the risk of theft.
Third I asked the owner to bring in a fan. Partly to create some ventilation, but also to ward off the mosquitos.
Fourth I put on insect repellent on my exposed skin and even my clothing. Hopefully reducing my chances of becoming dinner for the mosquitos.
Fifth, I decided that I'd wear my mosquito net hat to sleep. Heck, I decided to wear all my cloths to sleep to ward off bugs.
So I hunkered down for the night and expected that it would be a hot night with some bugs buzzing around my head and possibly other surprises.
In other words, I wasn't planning on getting much rest. I kept telling myself that it was only for one night. And, to get me through the night I kept thinking about the great time and hotel I had just the day before in Alegria.
Sweet dreams.
Tuesday, November 29, 2011
I did a little dual sport riding the other day.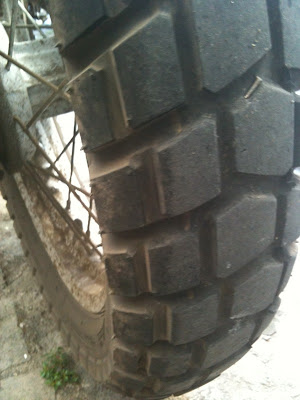 When I returned to the hotel I noticed this... a nail in my rear tire. You'll notice that the tire is still fully inflated. I didn't know if the nail had not penetrated all the way to the tube or if the
Slime
that I put inside my tube had protected and sealed the leak. It was late in the day, so I decided to wait until the next day to attempt the repair.
The next day the tire was still holding pressure. I've repaired a flat tire on my motorcycle before, so I felt comfortable repairing it. But I wanted to see if there was a llanta taller (tire shop) nearby that might be able to help. I asked the owner of the hotel and he indicated that there was not a taller in Alegria, but there were a few tallers in the town of Berlin about 5 km away. I headed down the road.
When I arrived in Berlin the first shop that I found was closed. I rode around a little bit looking for another. I saw a young guy on a little Suzuki 50cc motorbike. It was what one might call a pit bike in the states. I asked him where I might find a taller. He gave me directions... una cuadra alla y dos cuadra alla, alli por el banco. I told him that I was not familiar with the town. He said that he'd show me they way.
He push started his bike and we were off. We got a few looks as we roads through town because my bike dwarfed his... a rider in full moto gear on a Suzuki DR650 following a kid on a Suzuki 50cc wearing shorts. We arrived at the shop in just a few minutes.
Issrak was the jefe (boss) of the shop but he had a bunch of kids hanging around, learning the trade and working. Issrak was a big strong guy... the type of guy I like working on my bike.
First he removed the rim and tire from the bike. He propped up the bike on an old tree stump.
Then he removed the tire from the rim. Notice his little apprentice attentively watching.
Then he removed the tube from the rim and checked it for leaks in a tub of soapy water. Good news... no leak.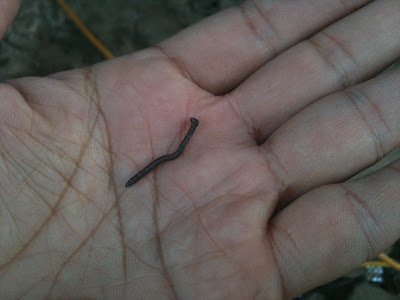 This was the culprit. Issrak removed the nail from the tire. Apparently the nail just went in sideways and penetrated a knobby.
He then reset the tube, tire, rim and sprocket.
Then he put the tire back on the bike. The whole process from the time that I rode up to the shop to the time that I rode away probably only took 15 minutes. Great service. When I asked him how much he would charge me he said US$2. I was shocked. I just shook my head and gave him US$5.
In the states to repair a tire would probably have cost $50 and I would have had to leave it in the shop for half a day. This little trip to Issrak's shop saved me quite a bit of time and worry. It probably would have taken me a hour and few few bruised knuckles to change the tire myself. T
I'm simply amazed at the quality, speed of work and honesty of the mechanics and fabricators that I've come across in Latin America. Buena Gente (Good Folks).
In Alegria I stayed in the Hotel Entre Piedras that is located at one corner of the town plaza.
It's a family run hotel and the owner Roberto really goes out of his way to make guests feel welcome.
The hotel has a nice restaurant and patio area to eat, drink and chill.
I ran into Osita and Gatita again whom had been staying at the hotel for a few days. They were planning to go on a hike to La Luguna Alegria and asked if I wanted to join them. How could I resist? They are so adorable.
Our guide for the trip was a local guy named Walter.
I believe the La Laguna Alegria was formed within the crater of a dormant volcano. The first part of the hike was ascending the outer hill through some coffee plantations.
Some great views of the surrounding area.
We came across this bullet ridden and bombed out shelter at the top of the volcano. It was used by both the
Contras
and
Sandinista
armies during the war. A relic from the
Salvadoran Civil War
.
In Latin America I'm often referred to as "El Chino". This is some graffiti inside the shelter marking my territory.
We continued hiking around the upper rim of the crater.
From the top of the crater on the west end we could see the Pacific Coast beaches and the ocean some 30 miles away.
We walked all the way around the crater's rim then descended to the lagun.
There was an area where hot sulfuric water was trickling out.
And of course there was a area to swim. This lagun appeared to be greener than the so called Laguna Verde (Green Lagun) I had visited earlier. The bottom of the lagun appeared to be lined with a very green grass which both attributed to the greenness of the lake and tickled my feet as I walked through it.
After swimming it was a short 40 minute walk down a road back to the town and back to the hotel.
It was a fun day and a great way to spend Thanksgiving.
I finished the day with a meal of spaghetti al carbona with Osita and Gatita at the hotel.
A collection of street art from the town of Alegria.
Monsignor Romero
Street posts
Featured Post
Here's my gift guide for outdoor people. I've used and tested all of these products while hiking, camping, backpacking, fishing or ...
In August 2011, I purchased a new 2011 Suzuki DR650 motorcycle for a trip through South America. The engine, exhaust, chassis and suspensi...

UPDATE as of April 2015. The roll-on roll-off ferry service  Ferry Xpress  to cross from Panama to Colombia has suspended their service....