I call her Emi. She's a beauty and she's my girl.
The bike that I will ride for "
Tejas a la Tierra
" is a specially modified Suzuki DR650SE. The DR650 is a long standing model in Suzuki's lineup. It is a dual-sport motorcycle intended for use on both paved and unpaved roads. The 644cc, counterbalanced, SOHC, single cylinder, air/oil-cooled engine develops 34 horsepower. It has an electric start, stock 3.4 gallon (13.1 liters) fuel tank, mikuni carburetor, disc brakes and 5 speed transmission. It is commonly described as being useful for all types of motorcycling. Many owners regard the DR650 as an excellent commuter bike, due to its relative high seating position, nimble handling and performance. Other owners like to transform the bike into an
adventure touring bike
, adding armor, racks, bags and modifications to make it more comfortable on long trips. That is my plan.
I selected the DR650 for its nice balance of street and dirt capabilties, reputation for reliability, abundant aftermarket parts, ability to haul gear, simple air/oil cooling mechanics and low profile styling.
Being that the Suzuki DR650 is a Japanese motorcycle, I am going to call my bike Emi. In Japanese her name means beautiful blessing. You may hear me talk about her fondly as my girl.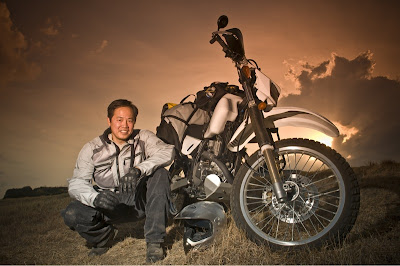 Photo by
Matt Sturtevant
How to build a Suzuki DR650 Adventure Motorcycle
Modifications to the Suzuki DR650
Test Ride 1
Test Ride 2
Modification Observations
Motorcycle Gear
Additional info:
Suzuki Official Website
Suzuki Dr650 Wiki
DRRiders.com Forum