My odometer on my bike rolled over to 7000 miles today. I thought that I'd celebrate by getting some nuevo zapatos (new shoes/tires) for Emi.
I asked a local motorcyclist where I might be able to find a motorcycle shop that sells tires and he directed me to a street called Avenida 1 de Mayo between Avenida NQS and Avenida 10.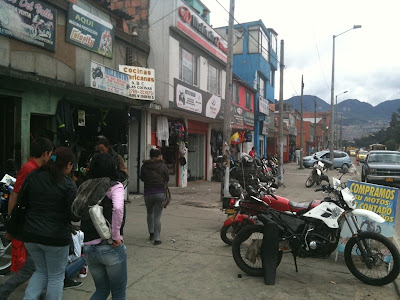 The street is lined on both sides with about a half mile of moto shops.
All the motorcyclists ride up and down the street looking for what they need, then pull up on the sidewalk to park.
I found a shop that had some Perelli MT60 tires in the right size for my bike.
In the small garage the mechanics went to work on my bike. I also asked for an oil change and lube. I had them check my break pads and they seemed to still be in good shape.
Afterwards, I rode down the street and found a moto wash.
I had been riding through quite a bit of rain and dirt, so it was nice having my bike cleaned up a bit for $3. They didn't do a great job, but I think Emi appreciated it.
I also picked up temporary insurance for Colombia for my bike. After visiting a few insurance sales offices and being told that it is only possible to buy a full year of insurance, I found Seguros SurAmerica at Carrera 10, #28-49 Edificio Davivienda which sold me two months of insurance at a reasonable rate.day
Now I'm ready to ride the Andes Mountains of South America.